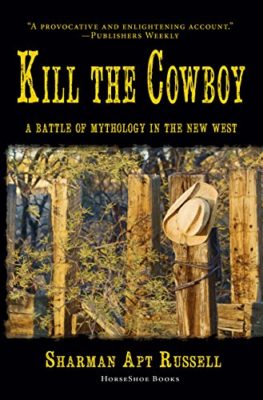 Rising larger than life against the Western horizon, the cowboy sits astride his horse right in the middle of American mythology, husbanding our ideals of freedom, independence, and valor. And grazing his cattle on the wide-open land, he leaves a dusty trail: weeds spring up, scrub brush flourishes, wildlife declines, ground compacts, soil erodes, streambeds turn into gullies. Treading a fine line between the idyllic myth and the harsh facts of real-life ranching, this book offers a measured look at the struggle over the future of the American West, where visions of the land sharply divide between those who want to use it, those who want to save it from abuse, and those who see a middle way.
Fairly—envisioning a revamping of the current grazing system—Sharman Apt Russell describes the present battles that pit ranchers against environmentalists, new Westerners against old, private concerns against government policies. The story she tells is dramatic, animated with the distinctive personalities and contentious episodes that have shaped current debates. It is also scrupulously attentive to the details of history, politics, and economics in the region. Grounded in a deep respect for land, this elegantly written, well-reasoned book begins the work of reevaluating our heroic myths and immediate needs in a way that will prove sustainable for all the West's inhabitants.
About the Book
From Publishers Weekly
A provocative account of the conflicts between western ranchers and environmentalists and the dangers of overgrazing.
Copyright 1994 Reed Business Information, Inc. –This text refers to an out of print or unavailable edition of this title.
From Library Journal
Russell, a resident of New Mexico's Mimbres Valley, presents the opposing viewpoints involved in the battle over grazing on the public lands in the West. She gives a personal touch to the discussion through interviews with people on both sides of the issue, and although an environmentalist herself, she allows both sides to have their say. Although she promises to sketch out a common ground between opposing views, Russell instead gets sidetracked by the "spiritual" aspects of the environmental movement. She is careful with her statistical sources, relying on those that are impartial. Her book is well written, and while it says nothing new to specialists, it is useful in providing some perspective on the public lands debate for the general reader. Suitable, but not essential, for most libraries.
– Stephen H. Peters, Northern Michigan Univ. Lib., Marquette
Copyright 1993 Reed Business Information, Inc. –This text refers to an out of print or unavailable edition of this title.
From Kirkus Reviews
Take the cowboy, please, and send him packing, along with all his mythological baggage–or so argues Russell (Writing/Western New Mexico University) in this provocative and iconoclastic study. Huge tracts of public range are beginning to go lunar: badlands-scale erosion; dry and degraded stream beds, void of wildlife. Livestock overgrazing is much to blame, Russell says, and greedy, land-rapacious ranchers are the culprits. "Greedy" because this public land could support and benefit from a moderate grazing regimen–except that "moderate" isn't part of the stockman's vocabulary. Government institutions such as the Forest Service and the Bureau of Land Management–along with the powerful rancher's lobby in Washington–seem intent on keeping the status quo, while a wide array of groups and individuals have taken up opposition. Russell documents the struggles of these ranching opponents and their visions of a different land use, from Quaker to Earth First!-er. Much is afoot on public rangeland–from possible wolf-reintroduction and holistic resource-management to the loss of almost all riparian ecosystems due to cow-stomping and the poisoning of wildlife by ranchers who don't like the competition- -and Russell samples from all these waters. How can we restore degraded land? asks Russell. How can we have healthy systems of soil and water? How can humans fit into the landscape? The author, meanwhile, is aware that ranchers are in a predicament: How can they change their ways and still avoid economic ruin? The final chapter finds her in a philosophical mode, ruminating on Judeo- Christian ethics, biodiversity, Gary Snyder, and Native American attitudes toward the land. Russell takes a cultural icon and, in one bold stroke, brings it full circle from myth to menace. The West needs a new image, and she's given us many to choose from. — Copyright ©1993, Kirkus Associates, LP. All rights reserved. –This text refers to an out of print or unavailable edition of this title.
About the Author
Sharman Apt Russell is the author of When the Land Was Young, also available in a Bison Books edition. She lives in the Mimbres Valley in New Mexico.
Disclosure of Material Connection: Some of the links in the page above are "affiliate links." This means if you click on the link and purchase the item, I will receive an affiliate commission. I am disclosing this in accordance with the Federal Trade Commission's
16 CFR, Part 255
: "Guides Concerning the Use of Endorsements and Testimonials in Advertising."